UniSteer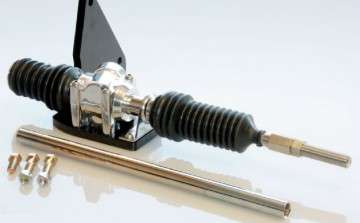 The UniSteer Cross Steer is essentially a small half rack and pinion that bolts into place exactly where the Vega style steering box bolts on to your rail. The system uses a drag link between both wheels. The Cross Steer was specifically designed for solid axle cars and trucks with a mono leaf spring suspension. Since the Cross Steer pivots only off the one side, it matches up perfectly with the stock style suspension of the solid axle Ford style front end including dropped axles and modified front ends.
The unit comes mounted to an angled bracket that has the same three hole pattern for mounting the Vega box. This small rack & pinion is made of all automotive grade components and can handle a vehicle up to 3500 lbs!
If you are building a new vehicle, the regular Cross Steer is a great option as you can run your steering linkage down to the gear.
This unit is approved for use in Australia. We have fitted these to local cars and our model A couple build that went east for DeTroy Smith (see Cruizin magazine issue 185). Also several cars in WA fitting these up now.