1932 Repro Chassis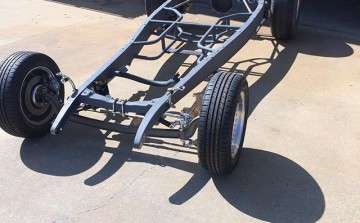 Starting with a Brand New set of USA stamped reproduction rails set in our in house chassis jig, we box the rails, fabricate and install an approved design of cross member, then set up for your choice of steering, brakes, engine/trans, diff and front end and shock absorbers. All welding is carried out to the highest standard and leaves our shop ready for TAC inspection. We can drill and tap for mounts as required too. This is a great way to get that project started and a real motivation booster to have a professionally built platform sitting in your shed ready to go.
Join our long list of satisfied customers and book your chassis build with us! You can be sure to get the very best start on your hot rod! From Model T, Model A  1928 – 31,  1932 & '34 and beyond, we can satisfy your chassis requirements at Armadale Auto Parts!
Remember, Our Chassis' are Built in Our Shop by Our Fabricator, Not farmed out to a third party welder, so you can rest assured that we're responsible for your job from start to finish. We build the Hot Rods and custom cars that You want to drive!