E-Stopp Electric Park Brake Kit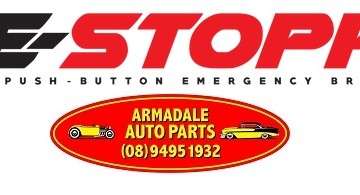 Armadale Auto Parts is The Number 1 Listed Australian Seller for the E-Stopp Electric Emergency Brake Kit! It stands to reason, we know what we're doing when it comes to Hot Rods, Customs & ICV's!
If you're thinking about E-Stopp, you best give us a call.
When it comes to E-Stopp Australia, it's us!
The E-Stopp Brake
The E-Stopp®, winner of the 2012 NSRA new safety product of the year, is the perfect e-brake for custom vehicles. E-Stopp® is a push-button electric emergency brake that not only frees up room on the chassis and in the cab; it also doubles as an anti-theft device when the button is hidden. It works with any kind of brake system that can accept an e-brake cable and can mount anywhere on the chassis that you have room.
​
The E-Stopp® brake set-up is an effective, easy & safe method to clean up your interior and simplify the parking brake installation on your custom hot-rod project.
E-Stopp Australia Armadale Auto Parts.
Check that E-Stopp is legal for use in your state or territory before fitting.