News
NEW PRODUCT IN STORE NOW!
You've been asking, so we've now made them available. A Weld in kit form, Tubular Crossmember for your Hot Rod Chassis build. This universal kit is versatile enoungh to suit almost any chassis you'll ever want to use, including fabricated home builds. Constructed from heavy duty 3mm thick wall steel tubing with fish-mouthed end, this kits has been designed to comply with all relevant regulations, meaning you can install this and take the guess-work out of satisfying the laws on chassis construction! Need help? Fitting is available here at the shop too, or you can take it home and DIY. Australia wide postage is also available. Made in WA.
We're making your hot rod build easy, at Armadale Auto Parts
*********************************************************************************
This awesome new design T-Shirt has just come in from Lucky 13. Traditional style Roadster with Traditional style Girl..
Sizes M-XXXL at $39.95 AU plus postage. Call 08 9495 1932 or check our eBay store.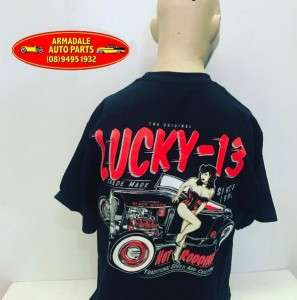 *********************************************************************************
What's Coming
Just Weeks away now from the Perth Hot Rod & Street Machine Spectacular at the Claremont Showgrounds WA. Time's running out if you'd like to display a vehicle at this awesome event! The show is set to be the Australian unveiling of Ben Forster's Beautiful T Coupster Show Rod! (See the flyer below). We supplied Many of the parts in the build of this car. If you aren't displaying a car, be sure to come along anyway. This is set to be an awesome event as it's the...
Read Article...
Our New website has been Launched!
Welcome to our new website. We've launched this website to provide a fresh new look to your online shopping and browsing experience and to make it easier for you, our customers to find out more about us and our products and help you decide what's right for you & your car. If you can't see what you're after here, don't fret. This site will be constantly updated with new products added regularly and remember, our inventory is Huge so we can't load up everything we...
Read Article...
Click To Load More